Spybot Search & Destroy
I have received a number of calls from my clients having problems with the systems settings protection feature within the Spybot search and destroy programme. This feature is called TeaTimer.

The TeaTimer systems settings protection device is intended to alert you when certain Internet functionality is changed, for example the home page, the programme alerts you with a registry protection pop-up window which presents you with options to accept or deny change.

TeaTimer positions itself in the bottom right hand corner of your screen in the system tray, which is the region of the screen where you'll find the clock, the TeaTimer programme presence can be seen by the appearance of the following icon:
If you want to switch TeaTimer off at any stage all you have to do is click the right mouse button on this icon and select "Exit Spybot S&D Resident". TeaTimer will re-appear when you re-start your PC.

Software installation usually affects the registry, consequently it might be easier to switch TeaTimer off before installing new software, however, if you do not, you will be faced under many circumstances with the following pop-up window.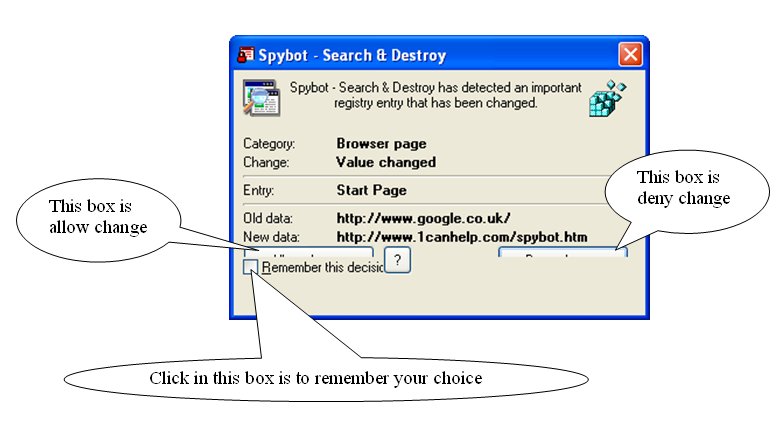 Hopefully this diagram of the window will show you the solution to the problems that you will encounter, namely that in order to click the accept or deny a change buttons you actually have to position your mouse rather carefully as the window does not display these buttons properly on most people's screens. Remember when clicking with the mouse that the hot spot is the very tip of the point.

Needless to say if this window pops up when surfing the internet, think very carefully before accepting change and make sure you know and understand what is being changed and agree with it.

I am not being critical about Spybot, I think the user licence is probably one of the most worthy that I have ever seen. And I wish the writers nothing but good things and I hope all of my clients have felt disposed to make a donation to this company as requested. The fact that the programme exhibits some issues on certain people's screens due to their graphic configuration is unfortunate, if the instructions I am outlining on this page are adhered to there should be no problems in using this programme.
"Spyware -
Remove it or suffer
deteriorating PC and/or Internet performance,
it's your choice"
This website is hosted by easyspace please click on the banner below for details